Zen and Your Life as Art
by Robert Fritz & Issho Fujita
November 23, 2020
8:00 pm - 10:00 pm(JST)
What does Zen have to do with your life as art?
According to Robert Fritz, Zen has everything to do with understanding your reality, and in order to create the life you want to live, you absolutely need to understand your reality. But doesn't Zen recommend that we accept life as it comes, rather than become the creator of our world? No, according to Issho Fujita, we are free to choose the life we want. Zen is all about freedom.


What would happen if the two great minds, with vastly different cultural, professional, and personal background, could meet and have a deep dialogue? Issho Fujita and Robert Fritz are scheduled to meet and talk for a third time, this time online via zoom, so everyone with a decent internet connection can easily join them from home. The topic will be Zen and Your Life as Art.

If you're interested in creating the life you want to live, Buddhist enlightenment, and the Zen way of life, and how to make them happen in your own life, mark your calendar and visit us on November 23rd, 2020! This is a rare opportunity to watch, learn, ask questions, and be inspired or even enlightened by the spontaneous conversations between Robert and Issho-san. Please send us questions and requests when you decide to join us.


Yoichi Tamura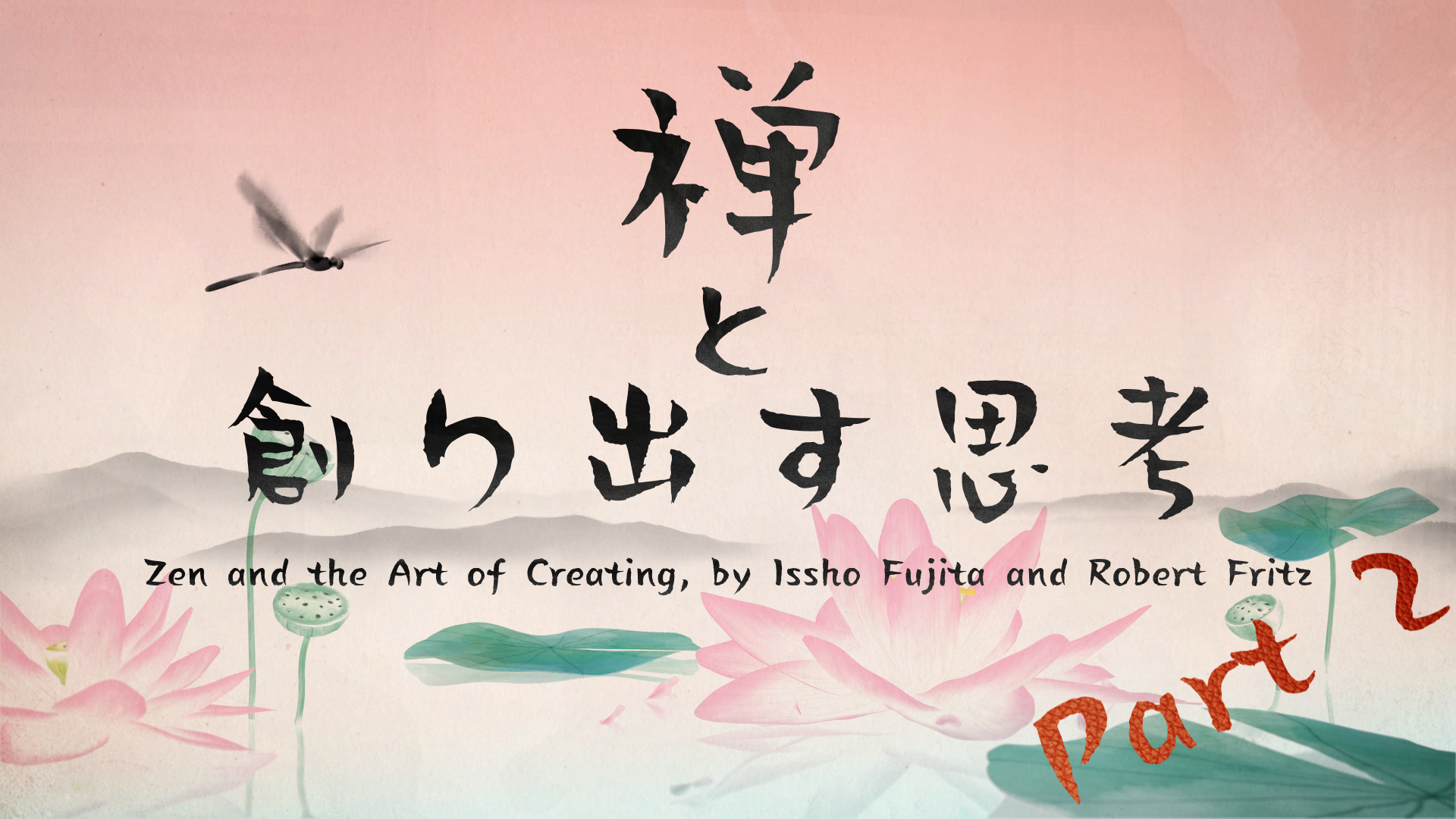 Zen and Your Life as Art
by Robert Fritz & Issho Fujita
Event Details
Date: Monday, November 23rd(JST)
Time: 8:00pm - 10:00pm(JST)
zoom link: Participants will be informed upon registration.
Admission: $35

This dialogue will be recorded and shared with participants.
Robert Fritz
Robert Fritz, composer, filmmaker and organizational consultant is founder of Robert Fritz Inc. and author of the international bestseller The Path of Least Resistance.
During the past twenty-five years, over 80,000 people in 27 countries have participated in trainings created by Robert Fritz. His insights on the creative process and structural dynamics serve as the foundation of meaningful and lasting change for both individuals and organizations.
Peter Senge (author of The Fifth Discipline) says that "Robert Fritz'… is without a doubt one of the most original thinkers today on the creative process in business, the arts, science, and life in general. His work has deeply impacted my life and the lives of many of my colleagues."
This influence can be witnessed in the lives of countless individuals throughout the world – and in the business practices of the many successful organizations that have embraced Robert's ideas.
An accomplished composer, producer, filmmaker and writer, it is Robert's experience in the arts which has had the greatest influence on his approach to human and organizational development. And it is this which makes the work of Robert Fritz Inc. both compelling and extraordinary.
Issho Fujita
Issho Fujita was born in Ehime Prefecture, Japan in 1954. After completing his studies at Nada High School in Kobe, he went on to study educational psychology at Tokyo University. From there he started graduate work in developmental psychology and during that time became seriously involved with zazen.
At the age of 28 he withdrew from his doctoral course and entered Antaiji, a Zen training monastery. He became a priest the following year. At 33 he left for America and for the next 17 ½ years he provided guidance in zazen at Pioneer Valley Zendo in Western Massachusetts. He returned to Japan in 2005 and is currently based at the Chizanso Retreat in Hayama, Kanagawa Prefecture where he conducts research and offers instruction in zazen.
Youtube のコンテンツは現在の Cookie 設定では表示されません。"コンテンツを見る"を選択し、Youtube の Cookie 設定に同意すると閲覧できます。詳細は Youtube のプライバシーポリシーをご確認ください。Cookie の利用は、Cookie 設定からいつでも変更できます。
コンテンツを見る
Excerpts from Zen and the creative process by Robert Fritz & Issho Fujita
September 2019 in Japan